I'm waaaaay behind on blogging but give me 2 more seconds and I'll explain why. We're having TWINS!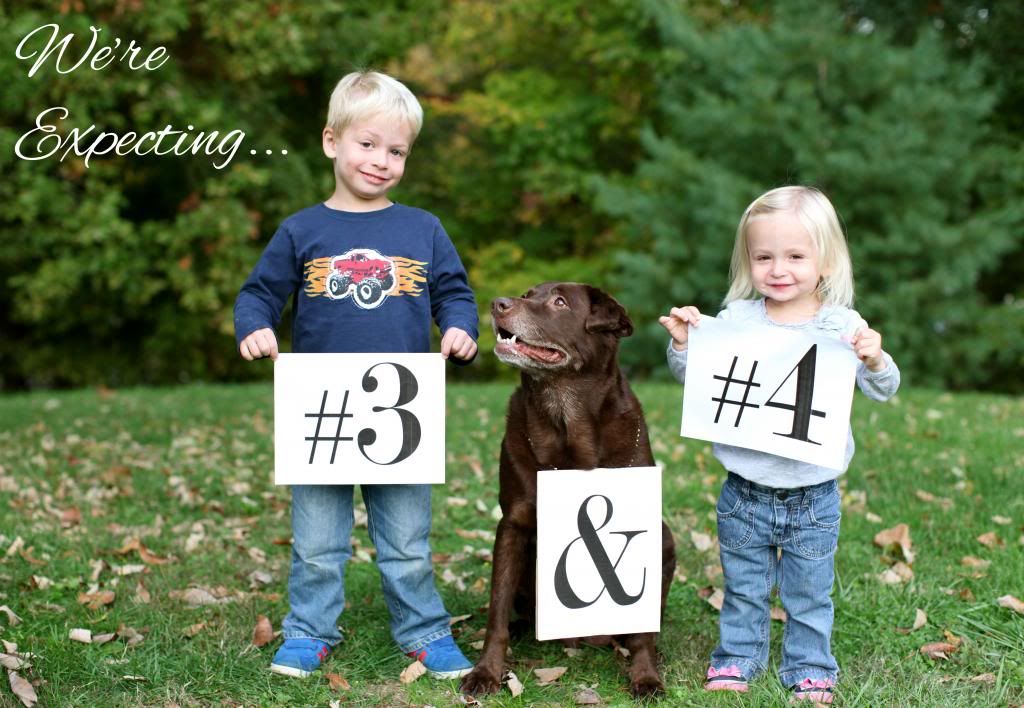 It's been a crazy few months as you imagine. We had been trying for baby #3 for two months and we're surprised when we got a positive pregnancy test back in August. It was a uneventful two weeks or so but then the morning sickness started to kick in and it hasn't let up since. More on that in a minute. I had my first doctors appointment when I was 6 weeks, I had my blood work and all the normal stuff. This time since I was over 35 my doctor recommended I get a new test called Harmony to test for genetic abnormalities and to my surprise it would also give us the gender at 10 weeks! And what really sold me on it was it was a simple blood draw from me. So she scheduled for me to come back at 11 weeks since I would be on vacation when I turned 10 weeks (which just reminded me I need to blog our Florida pictures!).
Anyway, weeks passed and I was feeling really cruddy. Sick almost every morning and just drained of energy all the time. I thought to myself this one was another girl because with Evan I was sick maybe once, with Erin I was sick less than a dozen times but still I was sick. We went on vacation and it was amazing and relaxing but I was virtually useless to Todd. I was just so exhausted.
We got back from vacation and a few days later Evan came down with a fever. He was puny and needed rest so the day of my doctors appointment he stayed home with daddy. I knew I'd be getting blood work and my doctor mentioned she'd check out the heartbeat with her handheld ultrasound but I didn't think bringing both kids in with me was good idea. Anyhoo, I went in to my doctors appointment and she started by rolling the little handheld ultrasound over my belly to get a heartbeat. She found baby and said "there's baby!" And I said "Awww....just one right?" and I was totally joking. Silence from my doctor. And she rolled the wand a little more and said "uh I think there might be two". I think I might have asked her if she was serious 42 times. Then she told me to get up and we'll go to ultrasound. She marched me out of the room and right into an ultrasound room down the hall. The tech came in, they exchanged some doctor/tech lingo and I was quickly laid out on the table and I got my first view of both my little twinies, their little heads, their kicking legs and flailing arms and I just wept. Joy, fear, complete surprise, you name it I was feeling it.
And I was really missing Todd! I couldn't believe he was missing out on such a life changing moment. So I talked to my doctor a little more and she explained a few differences with this pregnancy. And she also told me unfortunately the Harmony test could not give us the gender of multiples. I still went ahead with the test though.
Then I headed home to Todd and the kids. I walked in and I immediately told him to sit down. So he knew something was up. I handed him the ultrasound pics and he was floored. The shock definitely hadn't worn off for me at that point so we just stood there, shocked together.
A month later it still seams pretty surreal. My belly is expanding at a ridiculous rapid pace (although I've only gained five pounds so far). I'm still sick almost every morning and the occasional evening. Evan is soooo excited about the two babies and kisses my belly in two spots daily. I think he is going to be a great help when they are here. I think Erin is just happy to talk about babies but I'm not sure she fully understands that two are going to be living with us in the Spring.
My Harmony test came back all good and clear - yay!
My official due date is May 5th, but my doctor said if (God willing) I make it to 38 weeks I'll be good to go.
As far as the other details we're still working those out. Not sure of the sleeping arrangements yet - but pretty sure Evan and Erin will share a room for a while once the babies are here. Luckily since we already have one of each gender we won't need much in the clothes department no matter what the genders turn out to be. Which we will find out in two weeks! December 2nd I have a
Level 2
Ultrasound and we will be find out the genders. I'm super excited for that!
Well that's all for now, hopefully I will have time to update more often now that my busy season with photography is winding down. I had three weddings and countless sessions last month at the peak of my exhaustion. So now I'm just resting and trying to catch me breath!